CB600F/Hornet/599 headlight on a Hawk GT
Hopefully you've seen how fixing the wiring can make a big improvement to the light output with the basic harness.

The obvious next step after making the stock headlight work as well as it possibly can is to find the best replacement headlight that's easy to install and looks right on the bike.

I believe the CB600F/Hornet/599 headlight is that headlight.

The Hawk's stock reflector, although perfectly adequate when powered correctly, suffers from several things:
Old reflector and lens design
Single H4 bulb
Old plastic (scratched, yellowed, etc)
The Hawk's reflector can be replaced with a new one for about $70, but it's still a 25 year old design. (check the part number against early 80's Hondas)
An H4 bulb has two filaments. One gets used for low beam, the other for high beam. This leads to two problems: 1) you can't run the high and low beams at the same time without reducing bulb life, potentially losing both beams at once in a catastrophic failure (glass breaks from excess heat) and 2) the reflector design is at best a compromise between high and low beams. Modern H4 reflectors are better at this than older ones (the 919 and SV650 come to mind), but it's still a compromise. If you design the reflector and lens for a really good low or high beam, the other one suffers since they're both using the same reflector. The end result is the best compromise the engineers could come up with. It is a compromise.
By comparison, the 599's headlight has dedicated high and low beam bulbs and reflectors in a single unit. This results in a low beam that has a really good beam pattern: very little scatter into the trees, light where you want it, and not where you don't. The high beam is designed to be used with the low beam, not instead of it. The low beam stays on with the high beam so you can design a reflector that puts the high beam light where you want it: down the road, without sacrificing visibility close up. The results are really impressive.
Another factor is raw light output.
The stock H4 bulb is a 60/55 watt high/low that puts out 1,650 and 1,000 lumens respectively. The H11 low beam is a 55 watt bulb that puts out a respectible 1,350 lumens. The H9 high beam is a 65 watt bulb that puts out a remarkable 2,100 lumens. That's 30% more light on low beam, and a whopping 100% more light on high beam. This light is put where you want it too, not wherever the "best compromise" H4 reflector puts it.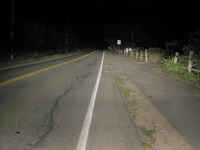 Here are some pictures of the light output.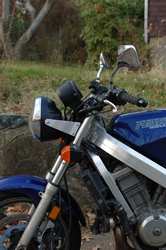 Here is what it looks like when mounted on a bike

The kit includes everything you need to install the harness except for some common tools.
What you get in the box
New Honda 599 reflector and bucket with one H11 and one H9 bulbs
Replacement custom made clear anodized headlight mounting ears
Stainless allen head bolts to mount the new ears and bucket
Custom designed suplementary high gauge wiring harness to power the new bulbs
A handfull of cable ties
Instructions
Tool list:
#2 philips screwdriver
#3 philips screwdriver (for the battery terminals)
wire cutters (to trim the cable ties)
4, 5, and 6mm allen wrenches (rear tank bolt and new headlight mounting bolts)
10mm socket (front tank bolt and battery box bolts)

There are some of the stock headlight parts you'll need to reuse:

The special nuts inside the headlight bucket that hold the stock bucket on

The philips head screws that hold the stock trim ring to the bucket

The stock headlight mounting bracket, that the ears attach to
Click here for a marked up fiche page,

(2) #18, Nut, Headlight case
(2) #27, Screw-Washer (5X16)
    #20, Stay, Headlight

It's probably not necessary to mention #20, but if you don't have this for some reason (going from a different aftermarket headlight, or back to a stock look from a fairing) you'll need to figure out something to make this work.

The cost of this kit is $330 plus shipping. Shipping will be $10-$15 to the lower 48, depending on where you have it shipped. contact me about shipping elsewhere.

If you've purchased a harness from me before and want to upgrade, I'll give you $20 back if you send the old one back in working condition.

Unfortunately the original harness is not compatible with the 599 kit, there are too many differences to make an "upgrade kit" practical. $20 isn't a lot, but it takes some of the sting out of $330.

At this point it takes a not insignificant ammount of time to get the parts from Honda, so there may be a wait while the parts come in.